Discover more from Inhabit: Territories
Everything's at stake. To make the most of this world, we must share, invent and retool. We're building the possible.
Over 5,000 subscribers
"The People Don't Need Permission to Feed Each Other"
Santiago de Chile's community kitchens amid the pandemic and uprising
Written by Benito Brava
Archival photos from Archivo Fortín Mapocho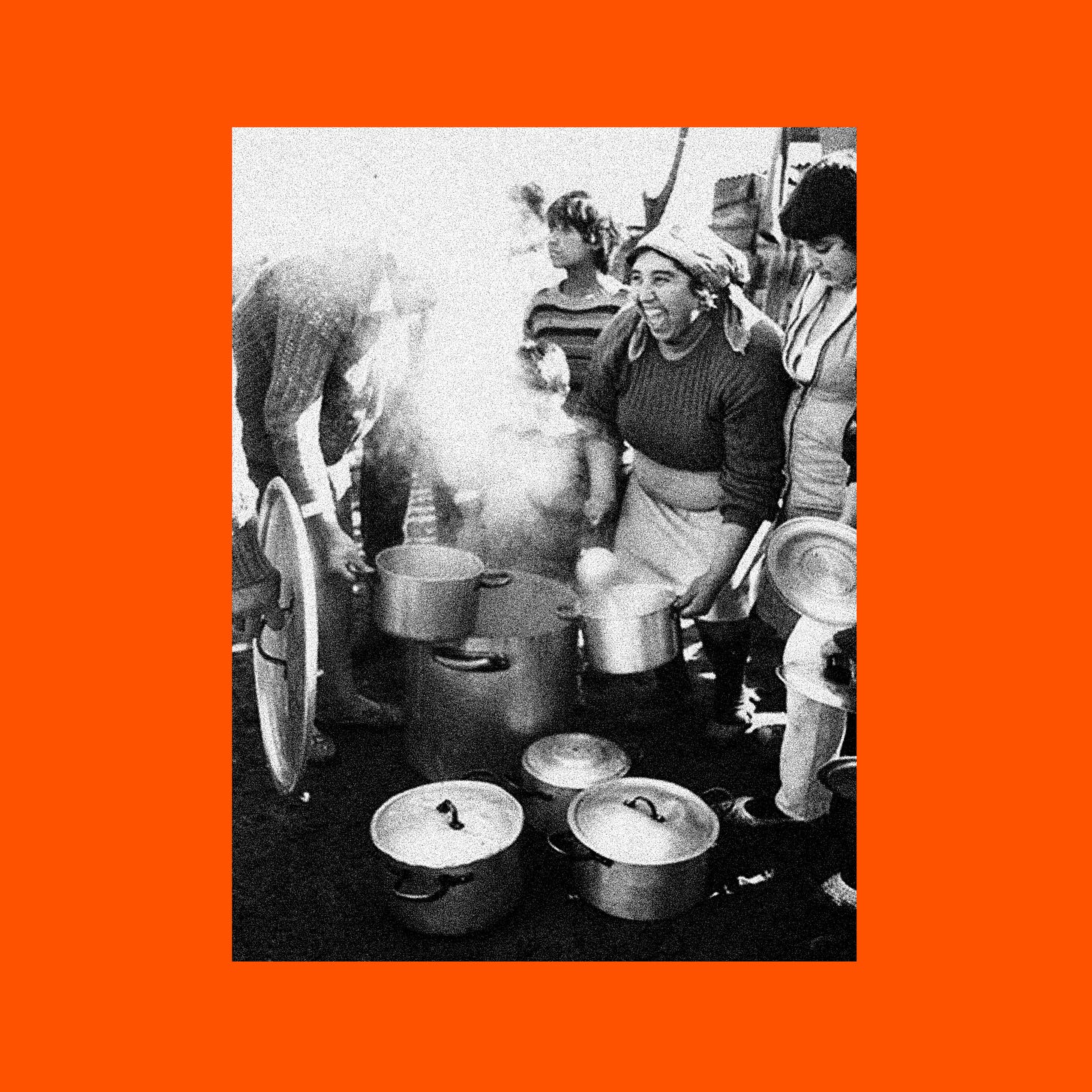 As a result of the October 2019 uprising, millions of Chileans have reconceptualized what it means to live and to fight. A new generation of frontliners has emerged as protesters learn to carve out territories for unauthorized public activities and defend them against the police.
But the COVID quarantine measures suspended the October revolt. After months without substantial protests or public activity, hunger protests and olla comunes (community kitchens) emerged throughout Santiago in response to food shortages and the COVID economic crisis. Police deployed the same dispersal tactics they used during the uprising  against both the hunger protests and community kitchens. Police violence against community relief efforts sparked public outrage, especially one video showing a guanaco (armored water cannon truck) running over an olla comun table covered with food.
Similar autonomous relief initiatives have proliferated across the world despite strict government lockdown measures. These initiatives are necessary because of the intentionally unequal distribution of resources across territories and populations. To maintain this inequality amid disasters, government institutions increasingly rely on and account for autonomous relief initiatives to support such zones of abandonment. For example, in Milan, groups of anarchists, communists, and other revolutionary tendencies formed autonomous relief brigades and gained government authorization to use public space and build solidarity between neighbors.
While many hope that autonomous relief initiatives could build new terrains to contest the state and capital, state institutions enforce exceptional forms of surveillance and social control in order to demarcate the scope, potential, and function of autonomous relief. This tension reveals a deeper question that must be answered amid the new uprisings appearing during the COVID pandemic and natural disasters more broadly. In what context could autonomous relief projects serve to contest territory rather than become enmeshed in state apparatuses?
This is not the first time community kitchens have sprouted up in Santiago amid hunger riots. During the Pinochet dictatorship, Santiago's periphery rioted and organized ollas comunes throughout the 1983-1984 economic crisis. Despite the fear that unauthorized assemblies would face military repression and violence,  people could organize and attend an unpermitted ollas comun. After all, these public gatherings weren't to discuss politics but to prevent widespread hunger. Yet in these spaces, new political affinities and conspiracies could emerge.
Today's ollas comunes started in response to fear of an economic crisis amid the October revolt which interrupted the Chilean economy and tanked the peso's value. Neighborhood assemblies proliferated throughout Santiago and some of their participants formed committees to organize ollas comunes. Back in October, ollas comunes served food a few times a week. They are now a daily occurrence in most neighborhoods.
When COVID hit, neighborhood assemblies moved online and shifted towards discussions, workshops, and publishing efforts. Those dismayed at the empty streets and uninterested in Zoom meetings—particularly the frontliners—deprioritized these virtual assemblies and focused on ollas comunes. Meanwhile, neighbors unaffiliated with the assemblies organized new ollas comunes themselves.
Both the ollas comunes in Santiago and Milan's neighborhood brigades have faced new forms of surveillance and scrutiny amid the COVID pandemic. Police enforce the lockdowns and residents can only leave their houses after filling out an online form and receiving a permit. After their dispersal of some ollas comunes, Chilean national police established a way for the kitchens and their participants to obtain permits. While Milan's relief brigades have chosen to get state authorization, the ollas comunes in Santiago have not. As their participants often assert: "the people don't need permission to feed each other."
In May, the asamblea libertaria (a libertarian anarchist neighborhood assembly) in Penalolen was invited to help with an olla comun held at an elementary school in a nearby neighborhood. Three people from the assembly showed up to the school with supplies to make 300 sopaipillas. They were greeted by three different groups preparing food: people from Coordinadora Violeta Parra (the Violeta Parra coordinating committee), a neighborhood group formed to rename their street after the folksinger who also distribute milk on a daily basis to children, another Catholic group who makes 300 sandwiches weekly, and a group of moms from the school with to-go boxes and keys to the building. While frying sopaipillas and packing lunches, participants talked gossip and explained different projects in the neighborhood.
While each olla comun focuses on the immediate neighborhood, they have provided the conditions for coordinating across neighborhoods. People from the asamblea libertaria explained that they meet weekly at the Liceo, an anarchist social center with a print shop, popular library, and industrial-sized bakery. At the end of the olla comun, a member from the coordinadora asked if they could use the bakery to make bread for more ollas comunes. As months went on, comrades used the Liceo to make bread for five different ollas comunes in nearby neighborhoods. In the process of coordinating, they met street vendors who would donate their unsold produce to ollas comunes and neighbors with trucks who would transport supplies.
Most olla comun organizers rely on donations from the robust informal economy. 25% of the Chilean economy is informal, a figure which includes the urban poor who pursue independent work and cannot afford taxes or permits. This percentage is less than neighboring South American countries because the Chilean government has waged a decades-long war against unpermitted street vendors, producers, and other independent commerce. Yet it is precisely because of the longstanding policing that olla comun organizers turn to the informal economy instead of seeking donations or resources from major companies and organizations. They choose to facilitate connections within the non-state sanctioned network of production and distribution instead of being dependent on NGO donations, municipal grants, or the national economy.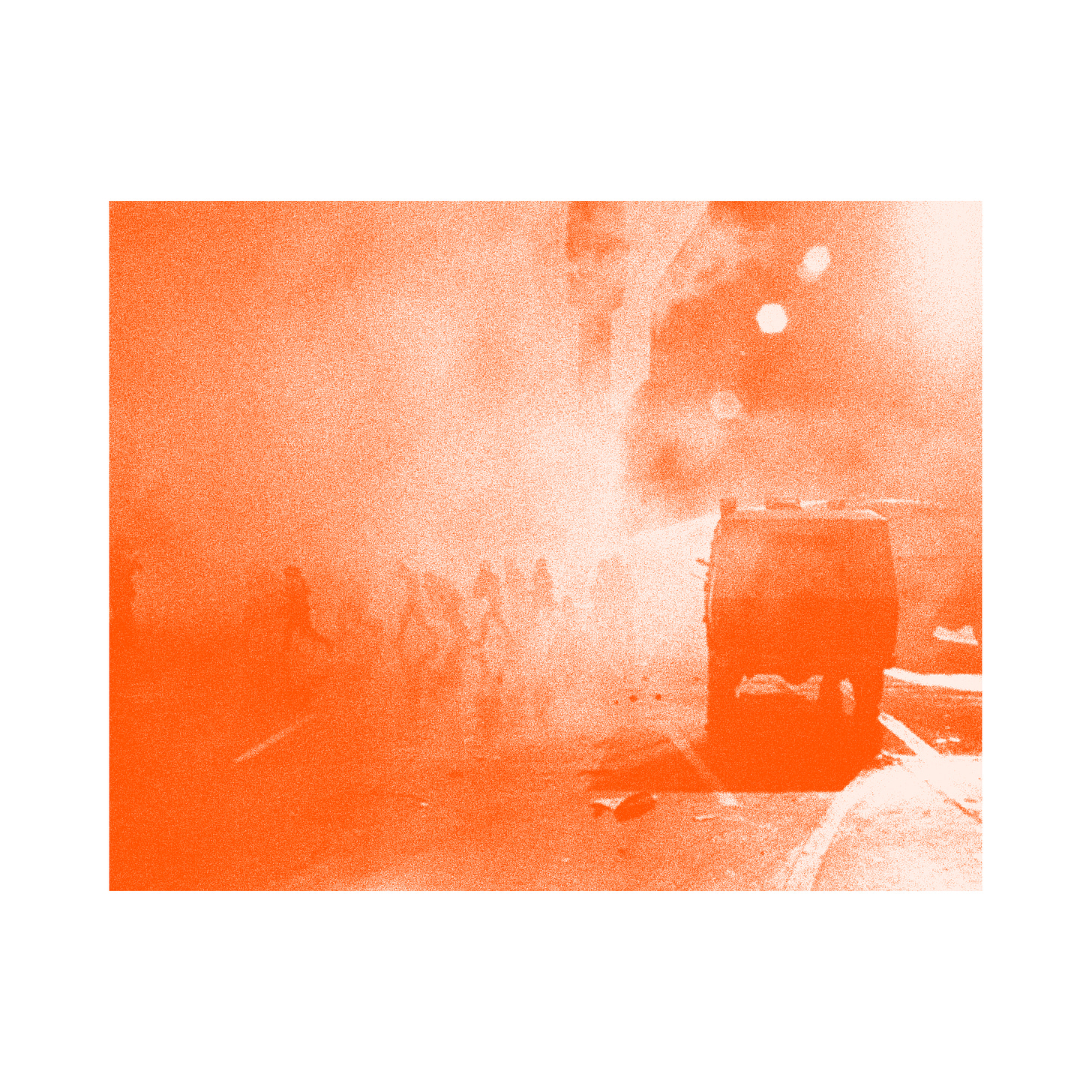 Many participants in ollas comunes are ambivalent members of opposing political parties: socialists, communists, and UDIstas (right-wing party members). In August, participants in the asamblea libertaria were introduced to Maria, a leader of a three- acre toma (land occupation) where 1500 homeless residents had been squatting land, in order to begin distributing bread to their olla comun. Maria introduced the asamblea libertaria people to the other participants in the toma's kitchen: "That's Gloria, who moved here six months ago from Haiti with her family, Margarita who brings donations from her feminist organization, and Jose, our UDIsta friend," jokingly referring to his right-wing party membership.
Ollas comunes refuse to seek municipal authorization because it entails a dependency on the same political system that has produced the existing unequal resource distribution. After the dictatorship, democracy arrived to Santiago's periphery as a patronage system. The UDI party, established by politicians of the military regime, gained support in working class neighborhoods through patron/client relationships they developed during the dictatorship. Amid a glaring lack of public infrastructure, UDI politicians would allocate resources that local UDI supporters cared about. To compete with the UDI politicians in office, opposition political parties likewise adopted this party patronage system.
There has been growing disenchantment with the patronage system over the past thirty years as well as fragmentation within the right-wing working class. After decades of compromises with local politicians, long-promised neighborhood improvements rarely come to fruition. As a result, new social organizations—particularly those formed by older generations—often declare themselves "non-political" to escape the patronage system and the unequal resource distribution it has created. Rather than recomposing these fractured party lines, ollas comunes generate new allegiances and affinities within the city. Why be forced to make promises and compromises with state institutions to get a permit when they don't even give resources in exchange?
The strength of the Milan brigades' strategy was to enable any group with their own affinities to work independently in public space. Yet this limited the alliances that could form between groups. After all, social distancing entails a reduction in your networks. But to build solidarity with their neighbors, the brigades accepted the legal protection of permits despite the restrictions they entailed. The ollas comunes also reveal that autonomous relief during a moment of revolt is not always so clear-cut. While school administrators are willing for anarchists to volunteer in an olla comun, they would undoubtedly be reluctant to have this alliance on record. Even worse, the makeup of the ollas comunes would reveal potential affinities between an elementary school and a land occupation across the city.
After two months of helping in the olla comun at the toma, the participants from the asamblea libertia began joining in the toma's anti-police eviction defense. Through developing these relationships with the toma's coordinators after several unsuccessful police raids, participants in the Liceo's popular library partnered with toma residents to build and supply a popular library on the squatted land. Despite the purported benefits of protection, legal recognition carries potentially grave legal consequences for the disparate social forces strung together throughout the Chilean uprising.
* * * * *
Despite an uprising's power to break boundaries of political conflict, participants risk retreating into familiar terrain as the revolt stretches on for months and uncertainty takes its toll. As new uprisings around the world erupt in the midst of the COVID pandemic, yet-to happen natural disasters, and resulting economic crises, it becomes imperative to imagine the conditions under which autonomous relief initiatives can contest territory alongside a wider revolt.
The situation in Santiago may be different from other contexts. In particular, the racialization of resource distribution and state violence in the US has no immediate analog in Chile. Nonetheless, state violence and intergenerational cycles of poverty are endemic to Santiago's periphery. Parallels can be drawn across the western hemisphere because political governance entails the maintenance of boundaries delineating zones subject to abandonment, structural violence, and slow death. These boundaries are enforced through regulating how social organization develops within a territory and limiting the contexts in which autonomous initiatives can operate.
The conflict between the ollas comunes and state institutions reveals that autonomous relief initiatives can contest territory through normalizing evasion and providing space for conspiracy. By evading forms of surveillance and social control, autonomous relief initiatives have the potential to contest the boundaries of abandoned territories and populations through bringing together disparate, seemingly incongruous social blocs. In doing so, they can further fracture long-standing divisions between privileged and marginalized, between formal and informal, between citizen and criminal, between frontliner and homebound, and between network and organization.
Through these seemingly contradictory alliances, participants realize the irrelevance of their opposed political ideologies and break pre-established forms of political conflicts over resources. Amid uncertainty and the lingering desire for the return to a fictive "normalcy," autonomous relief initiatives create forms in which inhabitants can re-imagine long-held assumptions of power and authority as their initiatives expand within their territories.
To protect the identities of participants, names and locations have been changed.