Welcome to Territories, the monthly newsletter from Inhabit.
This month we've got a new video for you, just in time for the election. Whatever happens this week, know we're in it together.
Next up is a new translation on recent Indigenous struggles up north. There could be a timely lesson for us in this strategy of continent-wide blockades.
By the way, we had our Twitter back for a week before getting locked out again. What's up with that? For now, find us on our alt @readinhabit.
Our website got an update too: readinhabit.com. Don't forget to check out the brand new imageboard.
---
A short film by Inhabit
The sun is setting on the global order. The world has tilted and begun to fragment. Forget the endless commentary and targeted ads, we know no one is coming to save us. There will be no going back to normal, this year or any other. How do we keep forging ahead, without coming undone in the fight? The answer is all around us. Everywhere our passion ignites, new truths come to light. With each act of courage, care, and creativity, we're building the futures they wish to deny. As every promise is broken, we look out for each other. As the ground gives way, we stand for what we believe in. As their end arrives, we set out at the beginning. The door is wide open—walk through it.
Watch on Twitter, Instagram, and Vimeo.
---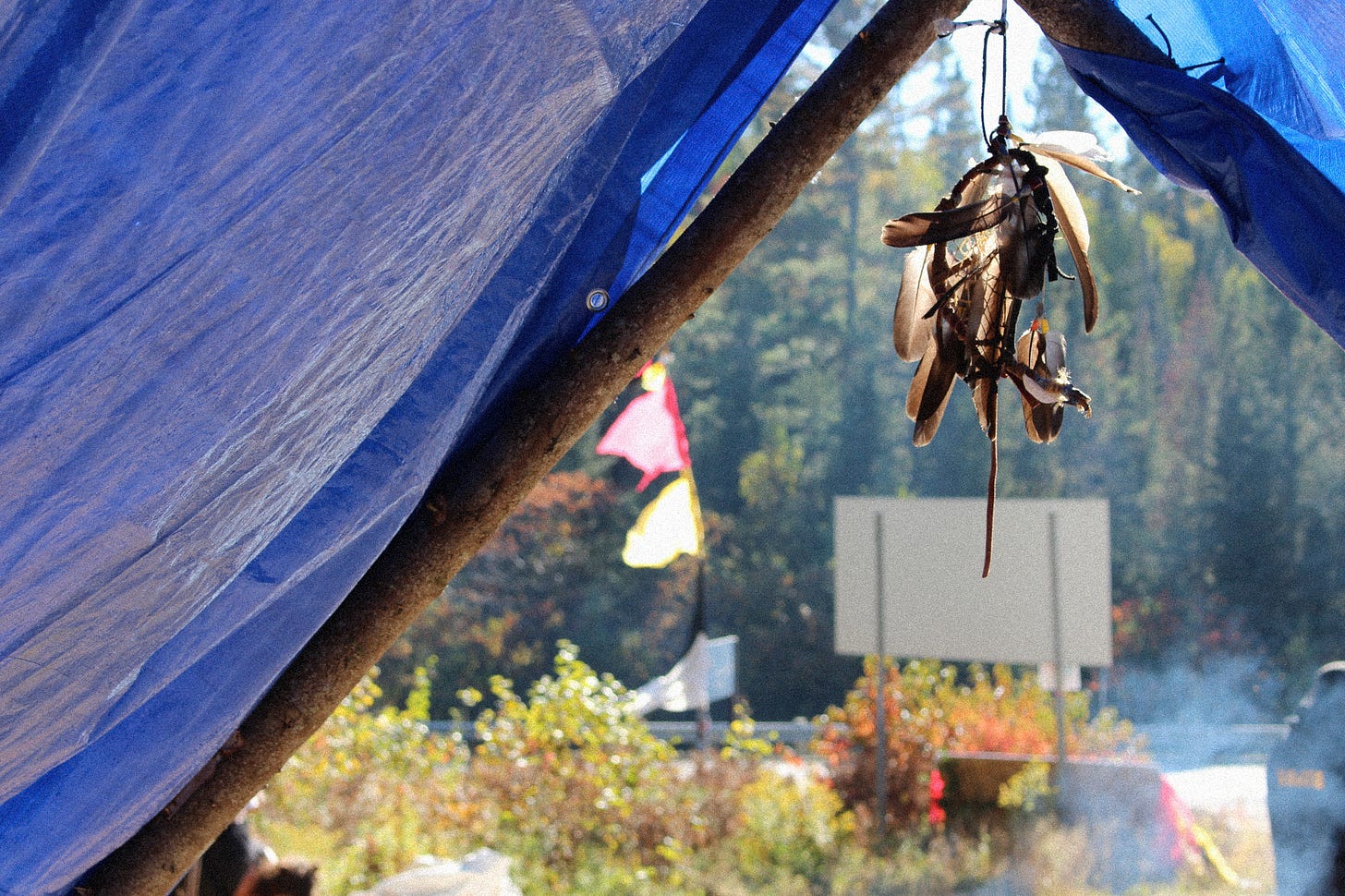 On Recent Expressions of Anishinabe Sovereignty
This year has seen a resurgence of Indigenous struggle in so-called Canada, part of a continuum of five hundred years of resistance. From Wet'suwet'en pipeline blockades to Haudenosaunee Confederacy land defense to Mi'kmaq fishing culture, this continent-wide revolt has implications for us all. This newly-translated piece comes from Liaisons Montreal and the Committee for Territorial Defense and Decolonization, discussing the movement of Anishinabe people to defend their forests and their moose allies from the encroachments of sport hunters, developers, and the state. Combining history, reportage, and tactical insights, this essay demonstrates the inseparability of inhabitation, resistance, and forms of life.
The Anishinabe word for moose, kacabagonégabwec, means a strong, majestic animal whose behavior can teach us how to live. The moose can, for example, show us certain medicinal plants. It was the moose who showed the Anishinabe how to use balsam fir to disinfect wounds and how to take black spruce during pregnancy. Just as the Anishinabe have always known that their existence on the territory depends on the other species that live there, settlers have always known that a sure way to assimilate a people is to eradicate their animal allies.
---
Coming up in two weeks—a virtual conference asking important questions for those building and fighting for new worlds.
---
Monthly Reading
"Alone, there can be no salvation for us. There is salvation because there are others." Giorgio Agamben on the slow collapse of the west.
"Reality is brutal, but we must avoid growing brutal ourselves. Today this is one possible meaning of the word autonomy." Franco 'Bifo' Berardi on the global tumult.
"Despite grandiose delusions of white mastery and control, it is becoming increasingly evident that civil war is inescapable." Idris Robinson on the George Floyd Rebellion.
"We are facing a future with millions dead and where a huge proportion of the survivors are newly disabled." M.K. Anderson on covid, work, and disability.
"Much of what the archive contains about enslaved people was left by people whose views were so compromised as to be effectively made-up." Alexis Okeowo on the work of Saidiya Hartman.
"The promised wall is the materialization of the violence on which the idea of the modern nation state rests." Yásnaya Elena Aguilar Gil on the fiction of borders.
"We should learn to see the robot for what it is—someone else's property, someone else's tool. Sometimes it needs to be destroyed." Kelly Pendergrast on technology and liberation.
"Each node of the supply chain is a potential location of technological glitches, labor insurgency, Indigenous protest, and climate change-induced extreme weather." Thea Riofrancos on extraction, supply chains, and chokepoints.
"Just as cheap fossil fuels, interstate highways, and air conditioning enabled modern America to grow and expand, climate change and wildfires will drive the next mass movements of people in the country." Christopher Benz on the western wildfires.
"The fact that the revolt was largely spontaneous speaks for one truth: it is the people who make history." Au Loong-Yu on the revolt in Hong Kong.
---
More than ever, now's the time to find each other. Link up. Reach out. Keep going, together.
You're on Path B,
Inhabit